Markilux 1650 - Folding-arm Semi-cassette Awning with integrated lighting
With integrated halogen spots
Features
integrated LED lighting
semi-cassette awning
motorised or manual operation
maximum width: 7.1m
maximum projection: 4m
multi award winning design
The markilux 1650 corresponds to the markilux 1600 (folding arms with double steel-like chains). These models, however, have integrated halogen spot lights in the front profile.
Choice of fabrics
All fabrics made from sunvas snc and sunsilk snc in the current markilux collection, including the exclusive visutex fabric series, are available.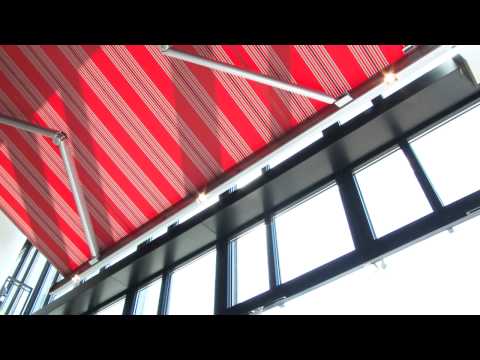 Dimensions
The markilux 1650 is available with a maximum width of 710 cm. The maximum projection is 400 cm. Units with larger widths are fitted with an additional rolltex bearing to prevent deflection of the roller tube.
Operation
Manual operation by means of a stainless steel winding handle. On request a hard-wired electric motor or a radio-controlled motor with remote control operation can be fitted.
Key
halogen spotlights integrated into the front profile
side view with manual operation (illustration without winding handle)
side view with awning retracted, face fixture
Top fixture
side view at a pitch of 50°
corrosion-resistant and technically proven; twin steel-link chains at the elbow joints
pitch adjustment via the fixture brackets
wall sealing profile (optional)
Special Equipment
The following options are available for the markilux 1650
Motor operation and remote controls
Comfortable operation at the touch of a button
markilux remote controls allow you to operate your awning comfortably at the touch of a button.
light and wind sensor
The intelligent weather control system.
The sun and wind sensor detect changes in weather and ensures the right reaction of your markilux.
Vibrabox
Sensor for dynamic wind loads
Oscillation and inertia sensor for the wireless transmission of wind signals.
Sunlight sensors
Solar-powered control
The sensor Sunis RTS will protect you from the sun and is flexible enough to be fitted to any façade.